SHIPMENTS FROM MONDAY TO SATURDAY
DELIVERIES IN 24 H-72 H
FREE FROM 43 € (SPAIN AND PORTUGAL)
Incorporate Komvida into your routine and
save on every order.
SUBSCRIBE!
Subscription Benefits
Only with the Komvida Subscription you will be able to customize your pack with your favorite flavors.
You can change it whenever you want!
SUBSCRIBE AND SAVE
Some of our best-selling packs
MULTISABOR PACK 250 ml
12 kombuchas of all Komvida flavors Our best seller !
From 24, 14€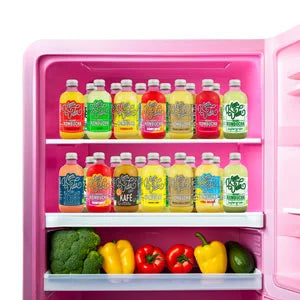 PERSONALISED PACK SUBSCRIPTION
Subscribe and create your pack, you can try the new flavor only for subscribers !
From 24, 14€
How to personalise the pack See less
Select the number of bottles
2. Decide the frequency of your order
3. Choose the flavor and combine them as you wish.
PACK FIRST PURCHASE 250 ml
The perfect pack for trying kombucha for the first for the first time. Includes all Komvida flavors
19, 54€
The pack includes See less
1 Greenvida (Green tea); 1 Berryvida (Red fruits); 1 Berryvida (Red fruits)
1 Gingervida (Ginger and lemon); 1 Kombujito (Kombujito); 1 Supergreen
1 Supergreen; 1 Pineapple Colad
How does the Subscription work?
Maximum comfort
Need to fast forward, skip or modify your subscription order?
You'll have it in less than 24 hours!
You will be more VIP than anyone else
For each subscription order, you will accumulate Komvipoints that can be redeemed for incredible gifts and discounts.
DISCOVER
Frequently asked questions about subscription
Everything you need to know about Komvida Subscription
Komvida Subscription is the best way to buy Komvida.
Shipping costs are always free

You have the best price

Earn free gifts by accumulating Komvipoints

You have exclusive attention in less than 24 hours

You can customize your pack with the flavors you like the most

You receive your Komvidas fresh at home with the frequency of your choice and the you choose and the convenience of not having to place an order

There is no permanence. Your subscription, your rules
How does it work?
Choose the combination of flavors you like the most

Receive your subscription order on the day you want and at the frequency you prefer (15, 30 or 60 days). or 60 days)

Cancel, skip or modify your order at any time
Add Komvida to your routine and save on every order!
How cool is that? You can start designing your subscription here
How to activate a Komvida Subscription
It's very easy, just click here here and you can start designing your own subscription.
What type of pack do you want? Choose the number of bottles and the format

Choose your flavors! It's the perfect time to add a bottle of that flavor you haven't tried yet. If you're having trouble deciding, don't worry because you can you can change them every month.

Add to cart your creation and continue with the purchase process to enjoy your fresh Komvidas every month.

Your first Subscription order will be generated at that time and you will activate your subscription

Depending on the frequency you have chosen, your orders will be generated without you having to do anything. without you having to do anything at all. Convenient, huh?
The subscription is 100% customizable so you can change everything you need to you need before you receive your subscription orders.
How to manage an existing subscription
If you have an active Subscription, you will be able to access it by logging in.
If you don't have an account created, don't worry, just use the same email address you used to activate your you activated your subscription and create a Komvida Komvida account.
Once you access your Subscription area, you will be able to modify what you need to you need:
Apply Komvipoints discount

Generate a subscription order on the spot

Forward, backward or skip a subscription order

Modify the associated card or payment method

Modify the flavors of your pack
Benefits of the Subscription reward system: Komvipoints
Komvida Subscription is the best way to buy Komvida, you know that. you know. But now with Komvipoints, it's even cooler!
Every euro you spend on each Subscription order is equivalent to one Komvipoint. For your birthday, you will receive 10 points and if you bring a friend to Komvida, another 15 points!
Komvipoints do not expire and can be accumulated. It won't take you long to receive your rewards ;)
When you have enough Komvipoints to receive rewards, you will receive an email notification so you can enjoy the reward that corresponds to your next order. order.
How to cancel the Subscription, does it have permanence?
You may cancel your subscription at any time:
Log in to your subscription area and cancel directly.

Write us a WhatsApp and we will do it for you.
To check if you have cancelled it correctly you should see that you do not have any active packs and that in the next any active pack and that in the next order section you do not have any scheduled order.
What happens if I cannot receive my Subscription order?
It is possible that one month you may not be able to receive your Subscription order. If that happens, we make it we make it easy for you:
If you will not be at home to receive your order, we suggest that you change your address to continue to enjoy your Komvidas. enjoy your Komvidas.
If you still prefer not to receive your order, you can skip it, no problem. Skip it and receive Komvida again next month.
What happens if I skip it?
Here's an example: You have a Subscription every 30 days. Your order was scheduled for July 30 July 30, but you decide to skip it. You will not receive your order on July 30, but if you do not do anything else, you will receive it on August 30. other operations, you will receive it on August 30.
SUBSCRIBE