SHIPMENTS FROM MONDAY TO SATURDAY
DELIVERIES IN 24 H-72 H
FREE FROM 43 € (SPAIN AND PORTUGAL)
What is Kombucha?
Kombucha is an ancient drink that was already drunk by the samurai and is obtained thanks to the natural fermentation of tea and sugar by a colony of bacteria and yeasts called Scoby. In the fermentation process, the Scoby eats almost all the sugar and produces bubbles that turn kombucha into a delicious refreshment.
Some of our best-selling packs
MULTISABOR PACK 250 ml
12 kombuchas of all Komvida flavors Our best seller !
From 24, 14€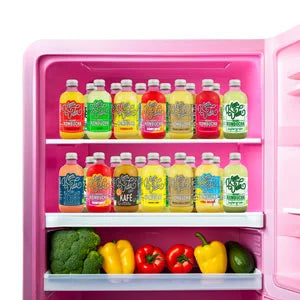 PERSONALISED PACK SUBSCRIPTION
Subscribe and create your pack, you can try the new flavor only for subscribers !
From 24, 14€
How to personalise the pack See less
Select the number of bottles
2. Decide the frequency of your order
3. Choose the flavor and combine them as you wish.
PACK FIRST PURCHASE 250 ml
The perfect pack for trying kombucha for the first for the first time. Includes all Komvida flavors
19, 54€
The pack includes See less
1 Greenvida (Green tea); 1 Berryvida (Red fruits); 1 Berryvida (Red fruits)
1 Gingervida (Ginger and lemon); 1 Kombujito (Kombujito); 1 Supergreen
1 Supergreen; 1 Pineapple Colad
Our Kombucha
Komvida is the kombucha that we, Nuria and Bea, produce in our little town in Extremadura. From our factory, and with the help of the kombucha masters, we make it in an artisanal way and following the millenary recipe, so it is really good kombucha. That is to say, without anything strange added.
Kombucha Ingredients
We make Komvida with organic ingredients, a minimum amount of residual sugar, natural bubbles and a taste you'll love (it's soooo good...). In addition, we bottle it in glass to take care of our planet.
From the bottom of our hearts, we hope you enjoy Komvida very much, and we promise to do our best to make sure it continues to bring you so many good things!

Nuria and Bea
This is how we make
Komvida