SHIPMENTS FROM MONDAY TO SATURDAY
DELIVERIES IN 24 H-72 H
FREE FROM 43 € (SPAIN AND PORTUGAL)
GINGERVIDA BOTTLE 1x750 ml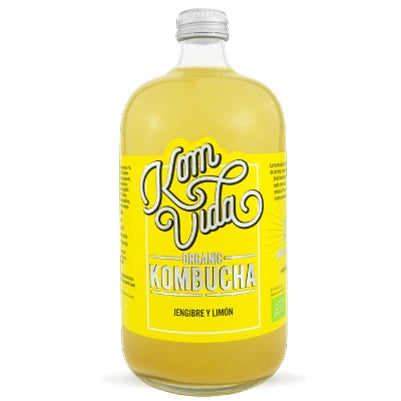 What does the pack include?
Ginger and lemon flavored Kombucha 🍋
 The refreshing and refreshing one. Citrus explosion on your palate. In addition to lemon, this kombucha contains ginger, which, as you know, is a natural anti-inflammatory - a ginger, yeah!
About Kombucha
What is this Kombucha?
It is a probiotic beverage obtained from a fermented tea fermented tea by means of a colony of microorganisms called scoby.
What are the benefits of one Kombucha a day?
Regular consumption of Komvida helps your digestion, your immune system and the elimination of toxins. It also improves your intestinal flora and is an antioxidant.
When do I take it?
You can take as much as you want and at any time. Like a healthy refreshment!
How do I preserve the properties of Komvida?
Always keep refrigerated, between 2°C and 8°C. Once opened, consume within a week.
Main ingredients
Kombucha always contains: water, organic tea, sugar*, kombucha culture (symbiosis of bacteria and yeast).
Depending on the flavor you can find other ingredients such as strawberries, blueberries, lemon juice, ginger, carrot juice, turmeric, apple juice, cinnamon or vanilla among others. See each flavor for all its ingredients.
* The sugar we add in its preparation is almost entirely consumed during the fermentation process.
GINGERVIDA BOTTLE 1x750 ml
Price:
Shipping in 24 hours.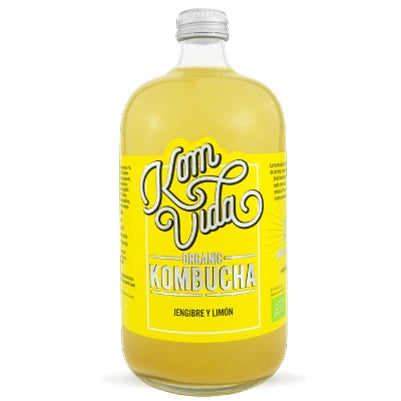 Komvida Kombucha, S.L., as data controller, will process your data in order to manage the shipment of the products you order and to send you offers, news and related discounts. related. You can exercise your rights by following the steps set out in our Privacy Policy. our Privacy Policy.
Products recommended for you ALWAYS
REFRIGERATED
We believe these packs are also ALWAYS of interest to you.
REFRIGERATED
See all products →
Customer Reviews
Write a Review
Ask a Question
Filter Reviews:
basket
nothing
health
happiness
glass
flavour
part
exchange
05/10/2021
Marina

Spain
I recommend this product
I love it
It is very tasty and refreshing, I wouldn't change it for anything.
12/09/2022
Mari R.

Spain
I recommend this product
More than good!
I love it, it is part of my basket of essentials for my health and happiness.
21/02/2023
Safira C.

Spain
I recommend this product
I love it
It tastes great! It is not pasteurized and that is what I was looking for, and the fact that it is in glass also seems important to me.